Moderator
Staff member
5 Year Member
Apistos never cease to amaze me. This time it's my pair of A. cf. luelingi Cristal. I brought them back from Peru in 2012. They've spawned for my many times, but I never seemed to get the fry to survive more than a week. The pair would fight every time there were fry. I'd try to remove the male, but chasing him would cause the female to eat the fry. I figured I'd put them in a slightly larger tank with more structure (they were in a 15 gallon (24x12x12"/60x30x30cm) tank). I set up a 20 long (30x12x12"/75x30x30cm) tank and moved the female first. I would leave her in the new tank for a few days so she could get used to all of the hiding/breeding spots before I would add the male. Well last night I was going to introduce the male to the new tank. I look in the tank and WOW! The male had about 25 fry swimming around him!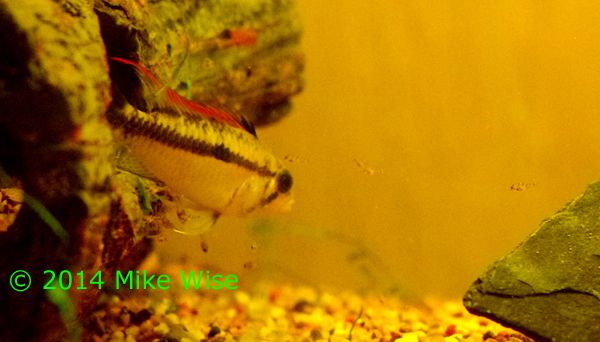 I know the photo is pretty poor. The tank is stained with black water and dimly lit. I used a manual focus lens so the autofocus assist lamp wouldn't flash and bother the male. 135mm lens @ f/2.5, 1/45", ISO 4500.
Now I wonder if all the fighting was because the female was eating the fry and the male wanted to protect them. So, I'll leave the male with the fry and see what happens. Weird fish ...